Buying business travel insurance is a tricky concept. You know you probably need it – if something goes wrong on a work trip, you definitely don't want to get caught out of pocket.
But you're also most likely not going to make a claim, and therefore paying a significant amount can feel like a waste of money.
We can't make the prices cheaper, but we can help by sharing some of the best options available on the market.
At least if you're going to fork out for insurance, you'll know that you've got the coverage you need.
What to look for in a business travel insurance scheme
The first thing you need to do is make sure you're not already covered under your company's existing insurance. This makes buying insurance a waste of money, and it can also increase the premiums on both plans.
But let's assume you need a new scheme. What should you look for?
Any good corporate travel insurance plan should cover:
Lost or stolen items, including work laptops and mobile phones, misplaced luggage, and personal belongings. This should also include cash if you need to travel with your per diem.
Itinerary changes and missed flights. A change of plan can be costly at short notice, so you need to make sure you're covered in that event.
Cancellations. You may need to make a claim without ever having to be taken off in the first place. If a meeting gets canceled by either side, you want to make sure your flights and accommodation will be reimbursed.
Health costs and hospitalization. This is particularly important when visiting countries like the United States with high healthcare fees, and developing countries where evacuation can even be necessary.
And of course, it's vital to have international coverage if you're visiting another country. Travel insurance usually covers specific regions, so make sure that your particular plan includes every destination on your trip.
Thankfully, most of the above is pretty standard nowadays. And businesses should be able to get good rates when they're covering multiple employees at once.
How we choose the companies on this list
To figure out the best prices (and compare with coverage), we requested quotes with the same itineraries:
For US providers: A 14-day trip from New York to Beijing, with a trip cost of $5,000
For British providers: A 14-day trip from London to Beijing, with a trip cost of $5,000
For European providers: A 14-day trip from Paris to Beijing, with a trip cost of $5,000
Where available, we've also listed the cost of an annual travel insurance package from each provider.
Let's start with the options for US businesses.

Business Travel insurance for US companies
Overall, American travel insurance providers were easily the most expensive. But the coverage provided was generally very good, and the high rates reflect the fact that all forms of American insurance tend to be pricey.
Let's start with the most comprehensive option.
Travel Insured International – Worldwide Trip Protector
You don't always need gold standard travel insurance. For domestic travel or trips to developed (and relatively safe) countries, many of the other options on this list will be more than enough.
But for companies that need to travel to countries with security issues – especially if taking expensive and sensitive equipment – it's hard to beat this package.
The plan does have slightly lower medical coverage (aside from evacuation) than some of the other options listed: $50,000. But if there's a real need to evacuate – especially for security rather than medical reasons – this is the plan for you.
What makes it different?
Very high medical evacuation coverage – up to US$1,000,000
High security evacuation coverage – up to $100,000
Excellent compensation for baggage delays – $500 after just 12 hours
Very good lost baggage coverage – $2,500
Quoted single-trip prices: $250
Annual price: Not offered
MH Ross – Bridge Policy
MH Ross has three work travel insurance plans – the Bridge is the middle-sized package. It covers most of what the previous scheme covers, just to slightly lower amounts. And frankly, you're almost never going to approach the top limits of either plan, anyway.
It also covers an exhaustive list of reasons for which your trip may be altered or cancelled. This includes things like unexpected jury duty, being let go from your job, and the hospitalization of your host.
Basically, it covers most issues you could ever encounter, and it's much cheaper.
What makes it different?
Good reimbursement for interrupted trips – up to 150% of trip costs
Fast coverage for delayed trips – $200 per day after only 6 hours
Good lost baggage coverage – $2,000
Also good baggage delay reimbursement – $400 after 12 hours
Quoted single-trip prices: $223
Annual price: Not offered
John Hancock – Bronze
John Hancock is the cheapest of our three American options and still offers very good insurance. This is a good choice if you're not going to overly hazardous places on your business trip, but still want to have good medical care available.
Even the Bronze package (there are two higher plans) requires zero excess for claims, and includes compensation for dental care – often left out.
But the reason people prefer John Hancock is the 24/7 customer support. This is standard, but the quality of support is known to be very high.
Why this package?
Short wait for compensation on delayed flights – only three hours
Lower medical coverage – up to $50,000
Good medical evacuation coverage – up to $250,000
Covers terrorist attacks – not all providers do
Quoted single-trip prices:$204
Annual price: Not offered

British travel insurance for UK companies
For residents of the United Kingdom, travel insurance is an astonishing amount cheaper. Salty, one tenth of the price we saw for those American options.
Economycover.com – Premier Plus
We'll start with the best of the "expensive" options. Naturally, these usually offer the best coverage and highest payouts in case of a claim.
But as you can see, the price is hardly anything to worry about. And as with all of the plans we'll see here, you get everything you need. Medical care, lost baggage, medical evacuation (as part of medical cover below), travel cancellation, and pretty much everything else you'd expect.
Highlights of this package:
Excellent medical cover – up to £20,000,000
Good travel cancellations – up to £8,000
Very good lost baggage coverage – up to £5,000
No excess for medical coverage in Europe
Quoted single-trip prices: £47.48
Quoted annual price: Add £10.41
Southdowns Insurance – Gold package
Southdowns is a very good option for middle-of-the-pack travel insurance. It's one third cheaper than the previous option, and still has the same excellent maximum payout for medical expenses.
Coverage for lost baggage and travel cancellation is lower, however. So this is the best option for travelers who aren't planning on taking expensive suits and valuables with them on a corporate trip.
But one amazing discovery: you can turn this into an annual insurance package for only £ 1.72.
What's included?
Excellent medical cover – up to £20,000,000
Decent lost baggage assistance – up to £2,000
Decent cancellation insurance – up to £3,000
Quoted single-trip prices: £33.99
Quoted annual price: Add £1.72
Coverwise – Standard package
If you're looking for a cheap option that'll still cover you should the worst happen, Coverwise has the package for you. It's the cheapest plan on this entire list, and still covers you up to a very high amount for medical expenses.
The excess is higher than our other UK listings – £125 for lost baggage, flight cancellation, or medical. And you won't get as much back for those non-medical claims.
But if you're not worried about your personal belongings, and just want to be sure you're covered in the most serious of cases, this package gives you exactly that.
What's in the package?
Excellent medical coverage – up to £20,000,000
Lower cancellation coverage – up to £1,000
Lower lost baggage coverage – up to £1,000
Quoted single-trip prices: £16.53
Quoted annual price: Add £9.37
Travel insurance for international companies
Allianz Travel – Business
Allianz is the world's largest travel insurance company, and while that may normally turn you off, it actually has its benefits.
It's able to offer a very high standard of care, and particularly fast customer service. Probably due to the number of staff it has around the world, it's never hard to get hold of someone when you need help.
And while it's not as cheap as the British options we just saw (nothing is), travelers still get good value for money in the grand scheme of things.
But some things are lacking. You need to pay € 155 more for cancellation insurance. That's the case whether it's your own fault or if the trip is canceled for business reasons.
But all in all, this is still a very good package
What's included?
Good medical coverage – up to €300,000
Baggage damage is covered
Medical evacuation is covered
Costs covered for flight delays
Quoted single-trip prices: €80.80
Quoted annual price: €168
Insurance is a core part of any business travel policy
You may not have thought deeply about your company's travel policy. Like many businesses, you may simply worry about how your team travels when the time comes. And most of the time, you simply figure that it'll be fine.
But serious companies need a clear travel policy. Not only does this set clear boundaries, but it actually helps staff find answers to important questions. A small amount of effort now can save you from major trouble in the future.
Just like insurance.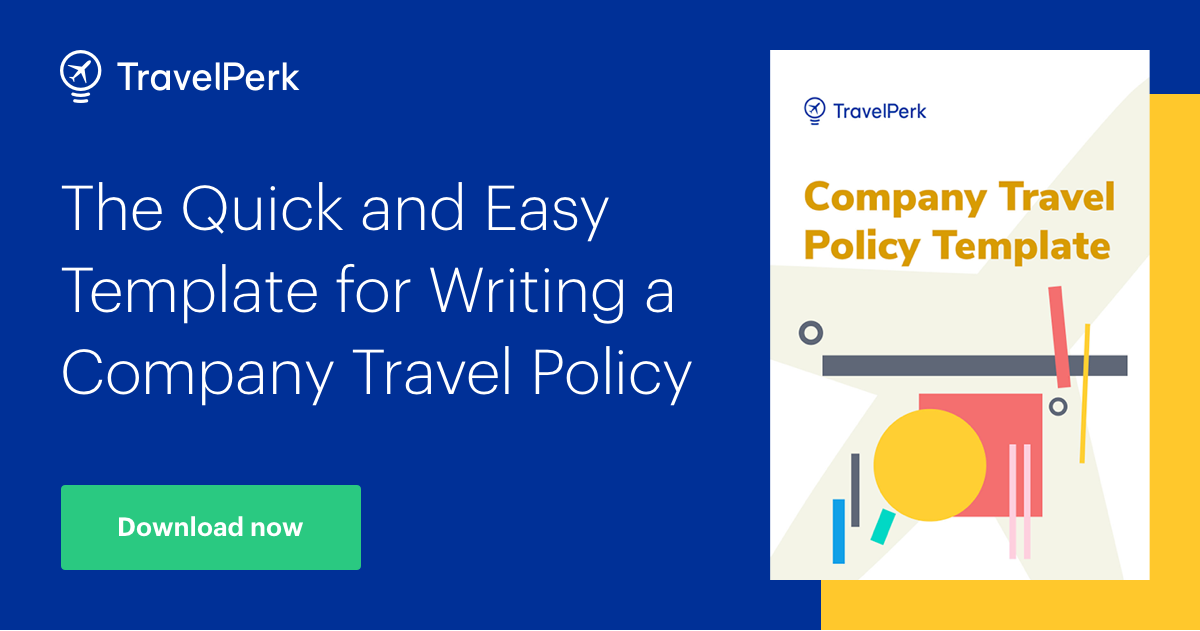 Because it's hard to know where to start, we've created this simple template to help you write an effective travel policy. It walks you through everything, so you can be sure that your company has sorted travel.