62% of small and medium-sized businesses anticipate growth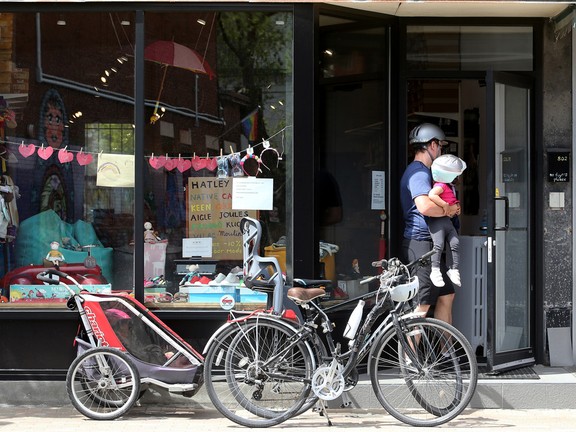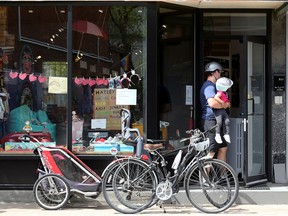 Reviews and recommendations are unbiased and products are independently selected. Postmedia may earn an affiliate commission from purchases made through links on this page.
Article content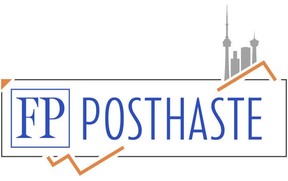 good morning!
Article content
Business leaders of Canadian small and medium-sized companies are optimistic about the future, with 62 per cent expecting to grow in the next six months, according to a new report by Zoho Corp.
More specifically, 38.2 per cent expect growth of one to 10 per cent, 15.4 per cent estimate growth of 10 to 20 per cent and 8.5 per cent forecast growth of above 20 per cent, the Zoho Canada SMB Outlook Report, which surveyed 1,016 Canadian businesses leaders in March, showed. However, 31.2 per cent are expecting zero growth and only 7.8 per cent are expecting declines.
"Canadian SMBs continue to be confident about business growth, and indicate that employees are key in terms of lessons learned, business challenges, and tech priorities," Chandrashekar Lalapet Srinivas Prasanna, managing director of Zoho Canada, said in a press release. "The fact that SMB leaders are successfully navigating today's economic, staffing, cybersecurity, and customer privacy challenges, while remaining highly optimistic about business growth and profitability, suggests that Canada could fare well during a possible upcoming recession."
Article content
Businesses are also generally holding steady on their staffing needs, with 70 per cent projecting no change in their employee levels, 26 per cent hiring and just four per cent anticipating layoffs.
Two of the key lessons learned over the past 12 months focused on staffing, with 22.1 per cent increasing employee pay and benefits and 20.5 per cent implementing more flexible work models.
Other lessons learned last year included adopting more aggressive pricing (20.6 per cent), implementing cost reductions (19 per cent) and increasing efficiencies (17.8 per cent).
Nearly twice as many respondents (42.3 per cent) said inflation was more of a challenge for businesses than interest rates (21.7 per cent), although its impact is weakening as the consumer price index dropped to its slowest pace since the summer of 2021 in March .
Article content
Nearly half of the respondents indicated that inflation continues to impact their business, but that's down from almost 65 per cent last year. Fewer also said inflation was impacting hiring offers than a year ago.
As for interest rates, 43.1 per cent of business leaders said they have not impacted their business.
But 36.2 per cent said they had to adjust their pricing because of interest rates. Some have increased prices (28.2 per cent), delayed capital expenses (18.1 per cent) and even delayed hiring (10.6 per cent).
The two top technology priorities directly affected employees, as 21.1 per cent of businesses facilitated remote work and 20.5 per cent invested in talent and digital skills.
Business leaders seem to be confident in their cybersecurity (50.8 per cent) and how customer privacy is handled (53.8 per cent), but Zoho warned this confidence may be misplaced since a third of respondents don't know their business's process.
Article content
"Even if the economic context presents challenges for companies today, as technology continues to evolve, it becomes more accessible and a strategic ally," Maria-Cecilia Arango, administrative assistant at Richporter Lighting, said in the release. "I am optimistic about the growing number of users who will be empowered to shape a brighter future this year and beyond."
_____________________________________________________________
Was this newsletter forwarded to you? Sign up here to get it delivered to your inbox.
_____________________________________________________________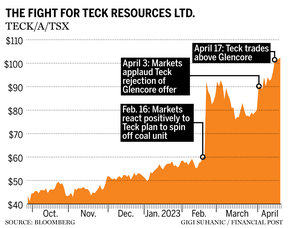 British Columbia Premier David Eby said Glencore PLC would struggle to meet his province's high ESG standards, introducing a potential hurdle in the Swiss mining giant's pursuit of homegrown Teck Resources Ltd. Eby said he intended to speak to the federal government, which has the ability to block foreign investment, to ensure authorities closely analyze the pros and cons of a potential takeover, wrote the Financial Post's Naimul Karim.
Article content
___________________________________________________

National Bank of Canada holds its annual meeting of shareholders in Montreal
Today's data: Canadians get the latest reading on retail trade today as Statistics Canada releases retail sales for February. In the United States, expect S&P Global PMIs.
Earnings: Procter & Gamble Co., Freeport-McMoRan Inc., Schlumberger NV
___________________________________________________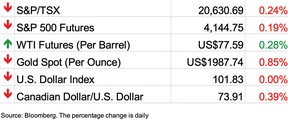 _______________________________________________________


Article content
How CRA strike will affect tax returns, refunds, benefits and more

Do unconscious biases affect investment returns?
____________________________________________________

The decision to strike by the Public Service Alliance of Canada – Union of Taxation Employees (PSAC-UTE) involving some 39,000 Canada Revenue Agency employees could not have come at a worse time for taxpayers, millions of whom are still scrambling to complete and file their 2022 tax returns by the filing deadline. But let you panic, tax expert Jamie Golombek has a guide on how to file on time despite the strike, and what to expect in terms of CRA's processing time and reduced services.
____________________________________________________
Today's Posthaste was written by Noella Ovid, with additional reporting from The Canadian Press, Thomson Reuters and Bloomberg.
Have a story idea, pitch, embargoed report, or a suggestion for this newsletter? Email us at [email protected], or hit reply to send us a note.
Listen to Down to Business for in-depth discussions and insights into the latest in Canadian business, available wherever you get your podcasts. Check out the latest episodes below: