Three provinces make the top 10, according to Fraser Institute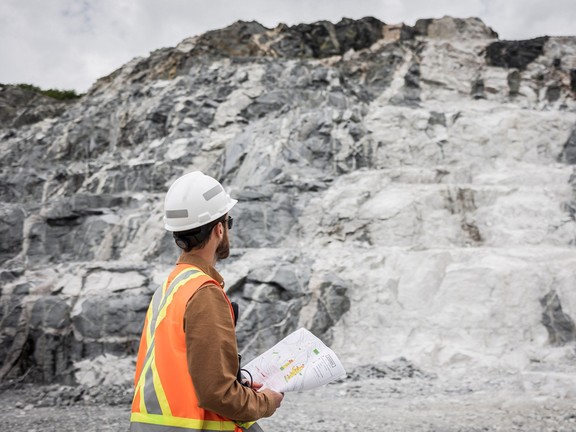 Article content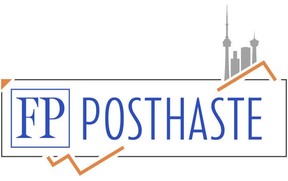 Saskatchewan is the world's third-most attractive region for mining investment, topped only by Nevada and Western Australia, according to the Fraser Institute's latest Annual Survey of Mining Companies.
Article content
The report ranked 62 jurisdictions worldwide on geological attractiveness (minerals and metals), as well as whether government policies encourage or deter exploration and investment (including permit times).
"While geological and economic considerations are important factors in mineral exploration, a region's policy climate is also an important investment consideration," the report said.
This is the fifth time in six years that Saskatchewan has ranked in the global top three, even though it fell from No. 2 in last year's survey.
Saskatchewan isn't the only Canadian jurisdiction that made the top 10, with Newfoundland and Labrador coming in at No. 4 and Québec at No. 8.
But the report says some Canadian provinces and territories are failing to capitalize on their strong mineral potential, largely because they're lacking a solid policy environment to attract investment.
Article content
For example, Ontario, Manitoba and Yukon all rank among the world's top 10 most attractive jurisdictions for mineral potential, but fall to spots 18, 24 and 31, respectively, on policy factors.
"A sound regulatory regime coupled with competitive taxes makes a jurisdiction attractive to investors," Elmira Aliakbari, director of the Fraser Institute's Center for Natural Resource Studies and co-author of the study, said in a press release. "Policy makers across the globe should understand that mineral deposits alone are not enough to attract investment."
Investor concerns over disputed land claims, protected areas and environmental regulations continue to be a major policy hurdle for British Columbia and Atlantic Canada. Uncertainty about protected areas, including which ones are off limits for mining exploration and production, is among the top three policy-related barriers to investment in the Atlantic provinces.
Article content
"Overregulation works as a deterrent to investment," an unnamed president at a producer said in the report. "The project I was working on met all regulatory requirements, but still had to apply for a court order (mandamus) before the BC government granted the permit."
Canada, however, is emerging as a preferred jurisdiction for green investments by the global mining industry, according to a separate report by DBRS Morningstar.
It said mining companies across the world are increasingly embracing Canada for investing in the new technologies needed to reach net-zero greenhouse gas emission targets.
Part of the reason is because Ottawa's federal budget for 2023 introduced a range of new tax incentives for sustainable investing.
Article content
But that's not the only reason global mining players are attracted to Canada. Other compelling reasons include:
The abundance of hydroelectric power generation.
The availability of advanced research and development centers in mining and processing industries.
An extensive resource base of most of the 31 critical minerals identified by Ottawa for driving economic growth in the green economy.
A highly skilled and experienced labor force.
_____________________________________________________________
Was this newsletter forwarded to you? Sign up here to get it delivered to your inbox.
_____________________________________________________________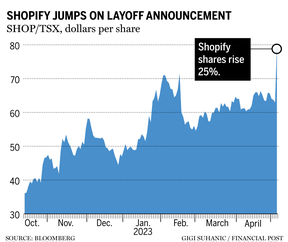 Two and a half months ago, Shopify Inc. president Harley Finkelstein said the company wasn't planning any more layoffs after slashing 10 per cent of its workforce the previous summer. Yet, following first-quarter earnings on May 4, Shopify announced it was cutting 20 per cent, or more than 2,000, staffers as it sheds a strategic part of the business once meant to expand the company beyond digital e-commerce products. The Financial Post's Bianca Bharti explains what you need to know.
Article content
___________________________________________________

Today's data: The labor market is in focus today with the release of the labor force survey for april from Statistics Canada. The Bank of Canada will be watching the data closely, as a strong labor market has complicated its efforts to bring inflation back to its two per cent target. Economists at the Royal Bank of Canada are expecting the economy to add around 12,000 jobs, which would be the smallest increase since September. We'll also get US job numbers today, along with consumer credit data.
Earnings: Enbridge Inc., Hydro One Ltd., Magna Inc., Brookfield Renewable Energy Partners LP, TransAlta Corp.
___________________________________________________
Article content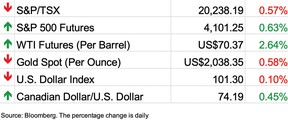 _______________________________________________________


____________________________________________________

The end game for millions of Canadians who diligently save for retirement by contributing to registered retirement savings plans (RRSPs) is to be able to accumulate, on a pre-tax basis, a sufficiently large enough nest egg that will last through retirement. The tool most RRSP savers ultimately use to provide such an income stream from that plan is a registered retirement income fund (RRIF). But RRIF rules haven't kept up with recent demographic and economic trends. Tax expert Jamie Golombek delves into what's wrong with the RRIF and how to fix it so seniors can stop fearing their retirement savings will run out.
Article content
Why King Charles won't be on Canada's banknotes anytime soon

What should an investor do if they own a lot of shares in one company?
____________________________________________________
Today's Posthaste was written by Noella Ovid, with additional reporting from The Canadian Press, Thomson Reuters and Bloomberg.
Have a story idea, pitch, embargoed report, or a suggestion for this newsletter? Email us at [email protected], or hit reply to send us a note.
Listen to Down to Business for in-depth discussions and insights into the latest in Canadian business, available wherever you get your podcasts. Check out the latest episodes below: