'We are prepared to raise rates further'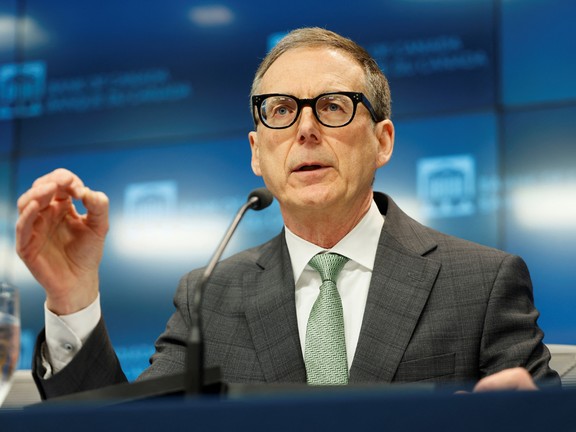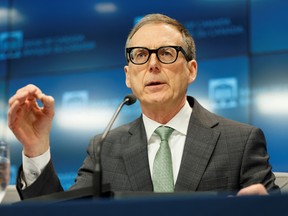 Article content
OTTAWA — Inflation risks getting stuck significantly above the Bank of Canada's two per cent target, and if that happens the central bank is ready to hike interest rates further, governor Tiff Macklem said on Thursday.
Article content
Last month the Bank of Canada left its key overnight interest rate on hold at 4.5 per cent but said rates may need to stay high for a while because of wage pressure in a tight labor market and sticky service prices.
Article content
The bank's baseline scenario sees the labor market softening as growth slows, easing wage pressures and business price-setting behavior, Macklem said.
"But there is a risk that these adjustments will take longer or stall, and inflation will get stuck materially above the two per cent target," Macklem told the Toronto Region Board of Trade.
If the bank sees signs of inflation is becoming entrenched above two per cent, "we are prepared to raise rates further," he said.
After eight consecutive rate hikes, the bank said in January that it would pause its tightening campaign and not raise rates again if inflation came down as expected.
Article content
But at its policy-setting meeting last month, the bank mulled an increase because of a persistently tight labor market and stronger-than-expected growth. It decided to hold off to collect more evidence on the impact of the previous rate increasing.
The bank expects inflation to fall to three per cent this summer even as the economy continues to grow modestly and then make a slower and more uncertain decline to two per cent by end-2024, Macklem said.
March inflation eased to 4.3 per cent, its slowest pace in 19 months, after peaking at 8.1 per cent last year.
While Macklem focused much of his speech on monetary policy and price stability, he also addressed the risk that recent United States and European financial instability could spread.
Article content
Macklem said that so far market stress had had a "muted" impact on Canada, but added, "if global financial stress were to re-emerge and prove more pervasive, the spillover effects into Canada could be more significant."
Bank of Canada grapples with population boom in rate decision

The Bank of Canada refrained from raising rates to collect more evidence

Bank of Canada rate-cut batches recede as inflation proves sticky
This week regulators seized First Republic Bank and sold its assets to JPMorgan Chase & Co, in a deal to resolve the largest US bank failure since the 2008 financial crisis.
"If more severe stress emerges (in Canada), we have the tools to provide liquidity while we continue to work toward restoring price stability," Macklem said.
© Thomson Reuters 2023