The top executive at Fox News was furious one of the network's reporters was fact-checking Donald Trump's false claims about the 2020 election, writing in a December 2020 email that it was "bad for business".
Suzanne Scott, the chief executive of Fox News, was responding in early December 2020 to an on-air fact-check by Eric Shawn, one of the network's anchors. "This has to stop now," she wrote to Meade Cooper, another Fox executive. "This is bad business and there is clearly a lack of understanding [sic] what is happening in these shows. The audience is furious and we are just feeding them material. Bad for business."
A Fox News spokesperson said Scott's objection in the email was not about pushing back on election claims. "This is not about fact-checking – the issue at hand is one host calling out another," the spokesperson said in a statement.
Scott also asked other Fox employees to alert her if the network booked Mike Pompeo, the former secretary of state, or Mike Lindell, a serial promoter of election misinformation. "They would both get ratings," she said.
The message is part of a tranche of internal communications obtained by the voting equipment company Dominion in its $1.6bn defamation lawsuit against Fox. Dominion displayed a copy of the message a court hearing last week as its lawyers argued that Fox knowingly aired false statements about Dominion because it was concerned about losing viewers to rival networks such as Newsmax and One America News (OAN). The Guardian obtained a copy of the message and the slideshow that was presented in court.
The Fox spokesperson said: "These documents once again demonstrate Dominion's continued reliance on cherry-picked quotes without context to generate headlines in order to distract from the facts of this case. The foundational right to a free press is at stake, and we will continue to fiercely advocate for the first amendment to protect the role of news organizations to cover the news."
Weeks earlier, on 19 November, Scott also complained about a different fact-check on air. "I can't keep defending these reporters who don't understand our viewers and how to handle stories," she wrote.
"The audience feels like we crapped on [sic] and we have damaged their trust and belief in us," she wrote, adding that Fox nation had lost 25,000 subscribers. "We can fix this but we cannot smirk at our viewers any longer."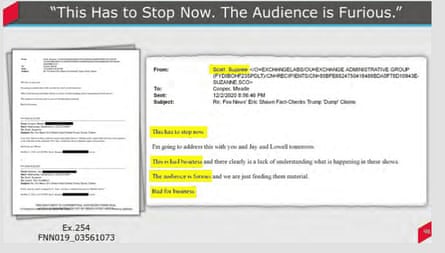 The reporter who did the fact-check, Kristin Fisher, later said she felt she was punished for telling the truth, NPR reported.
"This is about the tone and delivery of the correspondent. It has nothing to do with fact-checking," a Fox spokesperson said.
Fox says it was reporting on newsworthy allegations by the former president and his lawyers, and that its viewers would not have understood its broadcasts about Dominion to be statements of fact. It also says top executives at the company and others who expressed concern about the accuracy of its statements about the Dominion were not directly involved in determining what went into each show.
Dominion's slideshow also included messages from Fox News host Maria Bartiromo, whose show was a hotbed for false claims about the election. In one message, Bartiromo appeared to be aware that Sidney Powell, one of Donald Trump's lawyers, would come on his show the next day to make special claims about Dominion software switching votes, saying: "OK, Sidney will say it tomorrow." In notes to himself, Bartiromo noted that Powell was being shut out from meetings with Jared Kushner at the White House because he did not want to hear about "conspiracy theories".
Dominion also revealed a key November 13, 2020 internal fact-check from Fox from a team known as the "brain room" that debunked false claims about Dominion. Even though executives tested that claims debunked by the brain room should not have been aired, Fox continued to make false claims about Dominion after the fact-check.
The documents also show internal concern about statements being made by Jeanine Pirro, another host who aired false Dominion claims. In one message, fact-checkers went over a script for one of her shows and highlighted inaccurate statements about Dominion. "The brain room is going through this now. Jeanine dictated it to Tim. It's rife with conspiracies and BS and yet another example of why this woman should never be on live television," Jerry Andrews, a Fox executive, wrote in an email.
Jury selection in the trial is scheduled to begin on April 13 in Wilmington, Delaware. The trial is scheduled to begin April 17th and last six weeks.